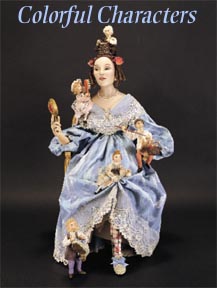 Collector's Corner: Art Dolls
By Lynda McDaniel
These Lilliputian re-creations of humans and animals, reality and fantasy have become giants in the art world. Over the past decade, art dolls have left their ancestral house, leaping out of the cradle and onto the pedestal. And Hollywood has awarded them star status, with such celebrities as Demi Moore, Anne Rice, Richard Simmons, Roseanne and Rosie O'Donnell enthusiastically collecting them.
"There is a little soul in these pieces," says Nancie Mann, owner of the Boston-based Mann Gallery, devoted exclusively to art dolls. "When you look at them, they really move you." She is referring specifically to the work of Jodi and Richard Creager. But the same could be said of the figurative sculptures by Akira Blount, Lisa Lichtenfels, Bob McKinley, Anne Mitrani, Bill Nelson, Jo-Ellen Trilling, Pamela Cowart-Rickman and Anne Mayer Meier.
Figurative sculpture comes in a broad range of sizes, styles, mediums and prices. Mediums include fabric, wax, poured latex, vinyl, paper, washi paper and an assortment of clays--polymer, paper, air dry and stone. Some artists have started making limited editions from original molds, resins and clays. Depending on the size and reputation of the artist, figurative sculptures can range in price anywhere from $125 to $10,000.
As with other crafts, the cardinal rule of collecting--love the object first--applies here. Learn everything you can from the Mann Gallery's informative web site (www.geocities.com/~artdoll/) and others. Get to know gallery owners who have been following this movement over the past 15 years. Their knowledge and passion can prove invaluable.