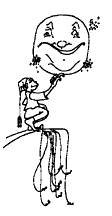 One-of-a-kind porcelain dolls - coming soon
"CHILDREN OF THE MOONTM"
a series of original porcelain dolls
by Yara Anderson
.
Limited Edition Porcelain Dolls
These dolls are cast in plaster molds, which is quite an interesting process. First I sculpt all the parts for a doll in an oil-based clay, from which a waste mold is made. In this mold I cast a porcelain doll, which is sanded and low-fired to give the master from which I make the final set of molds. And then I cast as many as needed...
you can find more dolls on either the homepage or the one-of-a-kind dolls page
| | | |
| --- | --- | --- |
| | | |
All images, dolls and documents: copyright 1997 Yara Anderson